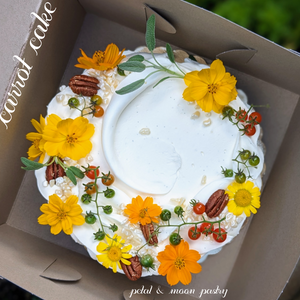 Carrot Cake~ spiced carrot cake / pecan caramel / yuzu + lime curd / vanilla italian meringue buttercream
My carrot cake is one of my most requested cakes, and it is very much a traditionally-inspired spiced carrot cake. I use a combination of spices I love from Penzeys: mace, Vietnamese cinnamon, nutmeg, and ginger with fresh organic carrots. This cake is made with a whole grain pastry flour milled at Meadowlark Community Mill~ the wheat varietal is a soft winter wheat named Venus and it is grown by Koether Farms. The cake is layered with salted caramel and toasted pecans, with a not-too-sweet vanilla italian-style buttercream with citrus (yuzu and lime) curd.
Each 6-inch round cake has 2 layers of cake + filling and serves 8+
*cakes will serve 4 very generous servings or 8 or more sensible servings
Each 8-inch round cake has 2 layers of cake + filling and serves 10-16+
*cakes will serve 10 very generous servings or 16 or more sensible servings

Cakes will be decorated with edible flowers and festive sprinkles at the baker's discretion

Available for no-contact curbside pick-up in Oak Park, IL
on TUESDAY, NOVEMBER 21, 2023
CAKE CARE: Cakes should be refrigerated until 2 or more hours before eating ~ ALWAYS allow cake to come to room temperature!
Cakes can be refrigerated for 4 days before enjoying, or frozen for 1 month
All products are made fresh with locally grown or sourced ingredients whenever possible, including Illinois grown and milled flours from Janie's Mill in Ashkum, IL & farm co-op butter from Farmhouse Kitchens in Wisconsin with seasonal fruit from Mick Klug Farms in St. Joseph, MI
CONTAINS WHEAT (gluten), EGGS, DAIRY, NUTS (PECANS). Made in a kitchen that produces items containing tree nuts, peanuts, wheat (gluten), corn, rice, eggs, and dairy
**PLEASE LET ME KNOW IF YOU HAVE AN ALLERGY MODIFICATION REQUEST, THE CARROT CAKE CAN BE MADE WITH GLUTEN-FREE FLOUR AT AN ADDITIONAL CHARGE**
PICKUP TIME IS FLEXIBLE ~ AFTER 5 PM / BEFORE 8 PM preferred
please email Ashley at petal moon pastry @ gmail .com to request a pickup time slot

* Once placed, orders cannot be refunded or cancelled
* Orders not picked up will be donated
* Questions? please email Ashley at petalmoonpastry @ gmail .com


NOTE: The health and well being of us all is of the utmost importance. Petal & Moon Pastry has implemented rigorous social distancing, sanitation, and self care measures to ensure that all people involved in food production, distribution, and consumption are protected from COVID-19 contamination. 
All products are made in a licensed home kitchen in Oak Park, Illinois by a certified sanitation manager and professional chef.