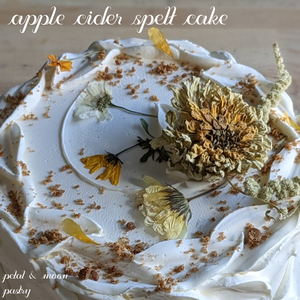 Apple Cider Spelt Cake~ ginger buttermilk chiffon cake / caramel apples / shortbread crumbs / vanilla cream cheese buttercream
A light, ginger chiffon cake is layered with caramelized honeycrisp apples, whippy vanilla cream cheese buttercream, and crumbled shortbread cookies. This cake is made entirely with organic whole grain spelt flour from Janie's Mill, with apples sourced from Mick Klug Farms, and dairy from Farmhouse Kitchens.
Each 6-inch round cake has 2 layers of cake + filling and serves 8+
*cakes will serve 4 very generous servings or 8 or more sensible servings
Each 8-inch round cake has 2 layers of cake + filling and serves 10-16+
*cakes will serve 10 very generous servings or 16 or more sensible servings

Cakes will be decorated with edible flowers and festive sprinkles at the baker's discretion

Available for no-contact curbside pick-up in Oak Park, IL
on TUESDAY, NOVEMBER 21, 2023
CAKE CARE: Cakes should be refrigerated until 2 or more hours before eating ~ ALWAYS allow cake to come to room temperature!
Cakes can be refrigerated for 4 days before enjoying, or frozen for 1 month
All products are made fresh with locally grown or sourced ingredients whenever possible, including Illinois grown and milled flours from Janie's Mill in Ashkum, IL & farm co-op butter from Farmhouse Kitchens in Wisconsin with seasonal fruit from Mick Klug Farms in St. Joseph, MI
CONTAINS WHEAT (gluten), EGGS, DAIRY. Made in a kitchen that produces items containing tree nuts, peanuts, wheat (gluten), corn, rice, eggs, and dairy
PICKUP TIME IS FLEXIBLE ~ AFTER 5 PM / BEFORE 8 PM preferred
please email Ashley at petal moon pastry @ gmail .com to request a pickup time slot

* Once placed, orders cannot be refunded or cancelled
* Orders not picked up will be donated
* Questions? please email Ashley at petalmoonpastry @ gmail .com


NOTE: The health and well being of us all is of the utmost importance. Petal & Moon Pastry has implemented rigorous social distancing, sanitation, and self care measures to ensure that all people involved in food production, distribution, and consumption are protected from COVID-19 contamination. 
All products are made in a licensed home kitchen in Oak Park, Illinois by a certified sanitation manager and professional chef.